FACTORY TOUR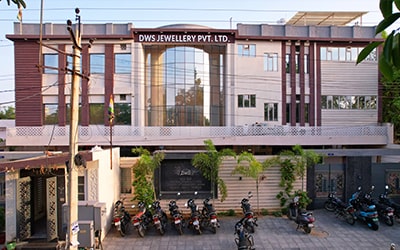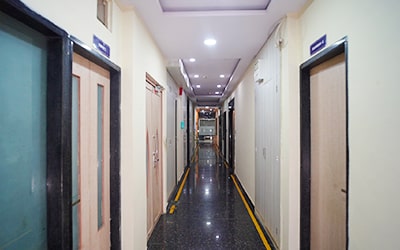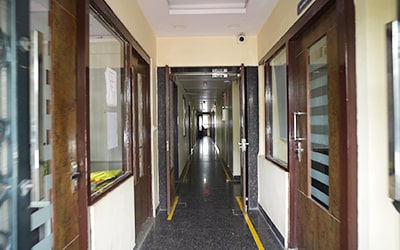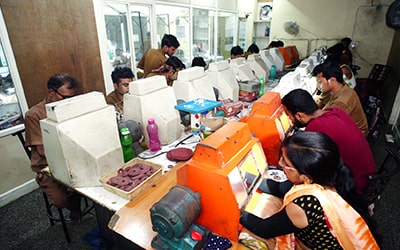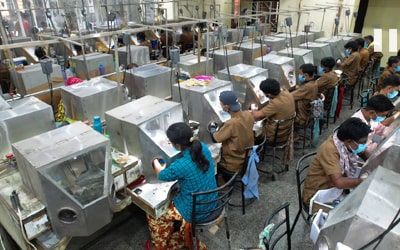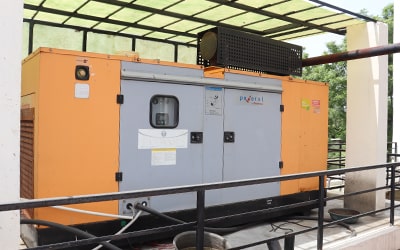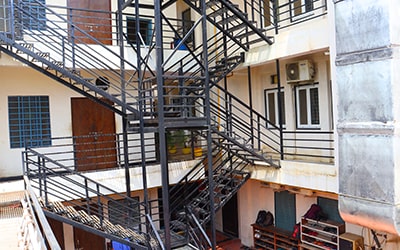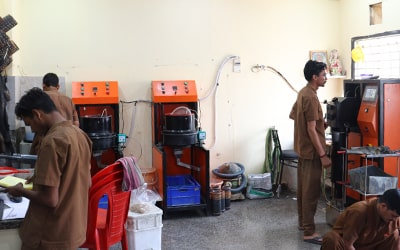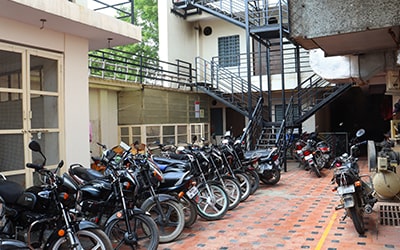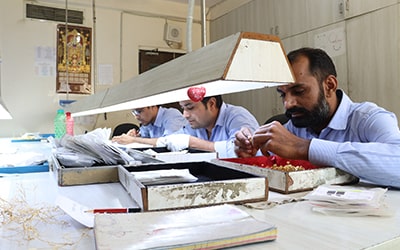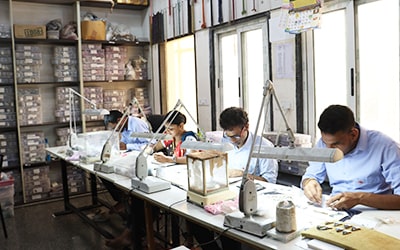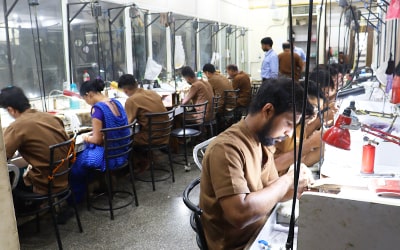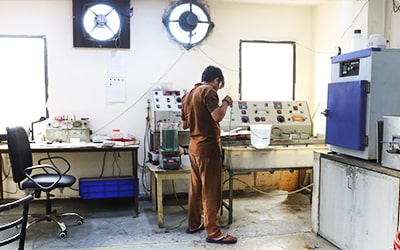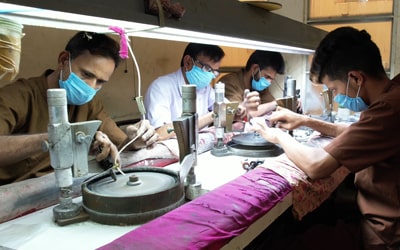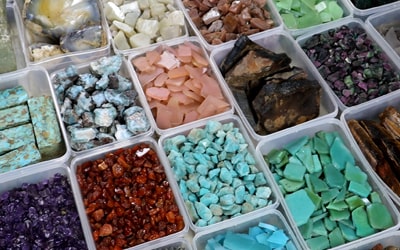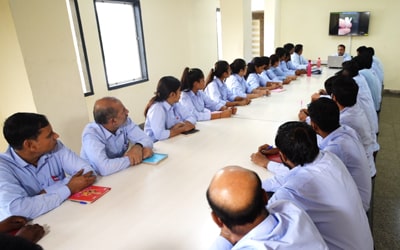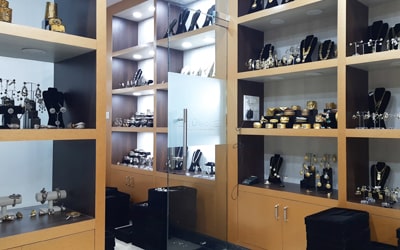 The Best Jewelry Factory in Sitapura Industrial Area Jaipur India
There are some things that are common and loved by all women all around the world. Yes, that's jewelry. Women's love for jewelry never fades away with time. These things remain at the top of all lists among all household activities. As soon as the cost of jewelry falls there is an increase in the purchasing of the jewelry, but the ladies' love remains constant towards jewelry. Among all the precious metals women love yellow metal called gold. Gold is the true love partner of women for a long time. During the olden days, both men and women use to wear gold in the form of jewelry. The increase in the price of gold doesn't affect women's demand. You will find varieties of jewelry earrings and cuff jewelry that are available in wholesale supply from the wholesale manufacturer or wholesale jewelry store. There are many jewelry manufacturing in India which has their own wholesale warehouse or jewelry warehouse to produce designer jewelry.
Something You Should Always Keep In Mind Before Buying Gold:
Most Indian women love gold. As you will find gold in every household. Whatever the occasion is women love to showcase their gold jewelry and want to look attractive. Women love precious metals. But before buying gold you should know some important things about it.
You should check the price of the gold and see whether it's pure or impure.
You should always check the hallmark before buying gold jewelry.
You can negotiate towards taking charge of the gold jewelry.
Always buy gold from a reputed jewelry shop.
Always keep your invoice bill of the jewelry carefully for future use.
Always cross-check the weight of the gold throughout.
Try to avoid purchasing gold during a festive season like Dhanteras, Sankranthi, Ugadi, Navarathri, Dasara, etc as the price of gold will be high.
Types Of Jewelry Available In The Market:
Jewelry is not a thing to show off but one of the best ways to adorn oneself. Women are madly in love with jewelry to match with an outfit of every occasion. Women always feel incomplete without ornaments. Below are some of the ornaments which can go with every outfit.
Ring For Any Occasion:
As we know to be it women or men all love to wear a ring. Rings are always worn on fingers. You will get different kinds of rings in a jewelry factory in India. You will get a silver ring of many designs, shapes, and sizes. You always need the ring size before gifting it to anyone. You will get various ranges of rings design as it is known as a silver factory in Jaipur. They provide one of the best quality gold as they have their own gold factory.
Rings are mainly used for engagement purposes. It may be after going through the stories of fairy tales that you have always longed for a beautiful and glamorous engagement. So to make this occasion a successful one you need to buy engagement rings which will give you a glamorous and beautiful look. You can get engagement rings of many types like a silver ring, a golden ring, and then a diamond ring. The silver ring is very attractive and cheap if you want to give a commitment to your teenage beloved then this is perfect to propose to your man or your woman with.
You can gift a silver ring to your girlfriend on Valentine's Day for showing her your commitment. Gold rings are a little expensive but you can gift them to your beloved on the big day. Then comes the diamond ring is expensive but it is perfect as a wedding ring. There are so many varieties available in engagement rings for women. You will get it in any shape and size. Silver and gold are used to make a diamond ring. Diamond will always go better with gold but nowadays silver also goes with the diamond as per the new trend. The diamond engagement ring is very pricey but will look very classy on your fingers. As diamond is a precious stone so women as well as men both love to wear a diamond ring on their fingers.
Even silver rings are used for astrology purposes with a birthstone. Now a day's women love to wear a silver ring even you can gift yourself a silver ring on your birthday or someone else birthday. As silver rings are cheap and are also available in many places or jewelry warehouses. You will get the finest cut diamond in the diamond factory.
Earring With Any Outfit:
The earring is a thing that women love to wear on any occasion with every dress. You will get earrings in any shape size and design. silver jewelry goes with every occasion as we know nowadays women are going crazy with silver ornaments. Silver is very beautiful and is very classy. You will get varieties of jewelry earrings in the market like stud earrings, hoop earrings, dangles earrings, barbell earrings, cuff earrings, clip-on earrings, etc. You will get all these varieties of silver as well as gold. You will get the finest quality diamond in a diamond factory in Jaipur.
Gold earrings are always in trend you can wear them at any place and anywhere. There are many earring jewelry manufacturers where you will find beautiful earrings. Dangle earrings are beautiful and attractive. The earring is a fashion ornament that can attach to your earlobe. In the ancient period women as well as men both use to wear an earring. If you love diamond earrings then wear stud earrings. Stud earring looks classy and beautiful and go with every kind of dress and occasion. You can wear gold dangle earrings with a traditional dress, gold clip-on earrings with small diamonds studded on them it will look beautiful.
Necklaces For The Suitable Place:
As silver jewelry is in trend nowadays women wear silver jewelry on any occasion in any place you can wear silver jewelry at any casual party and normal parties. Gold necklaces are for every occasion. You can miss and match every kind of chain with each other and can wear them on any occasion. The necklace is a fashion jewelry item that is worn around the neck. Since ancient times necklace is in fashion. You can buy silver necklaces as it is easily available and can wear them at casual parties with different styles and it's even cheap. Diamond necklaces or any other necklaces for women are available in jewelry finding the manufacturer or necklaces jewelry manufacturer.
Gold necklaces are very well decorated and can be worn with every dress and outfit but you have to be very conscious about wearing them at any party. As we know the diamond is studded in silver or gold. In necklaces, the diamond looks beautiful with gold. If you don't like to wear anything on your neck you should try gold necklaces once on your neck which will look beautiful and you will look stunning with them. Gold jewelry is one of the best things which you can gift to anyone. You don't need any size because it is available in universal size in any jewelry store. There are many pendants jewelry manufacturers that produce different modern style pendants.
Bangles And Bracelets For Gifting:
Bangles and bracelets are those ornaments that are worn by women on their wrists. They come in various shapes and sizes. Bangle and bracelets are famous among women. You will get bangles of many types. Gold and silver bangle is famous among women. They go with every dress and you will look beautiful in them. In India, women have to wear bangles if they are once married. Bracelets are very famous among all ages women. The bangle is worn mainly with traditional dress. If you are planning to wear a saree then bangles will be a perfect match for you and you should always wear bangles with every ethnic dress as bangles can make you beautiful and attractive.
There are many types of bangles in the market. Diamond bangles are expensive as they are a stud of gold or silver. But the diamond bangles look beautiful when you are wearing them with a traditional dress. It is not possible to gift bangle until or unless you know the correct wrist size. But you can easily gift bracelets to anyone as they have universal size and design. In bracelets, the diamond will look beautiful and attractive. you can get every type of bracelets in the market. You can even order online the way you want. Diamond is a precious stone but if you are going to some parties or weddings then the diamond will look beautiful on you. There is a shop in Jaipur where you will get every kind of bangle as they are bangles jewelry manufacture. Bracelets for women include bangle jewelry or jewelry bracelets which you can find in bracelets jewelry manufacturer outlets.
Even men wear a bangle which is called Kada. This is also available in silver and gold. You will see many Panjabi men wear silver Kada on their hands as it is their ritual. Even girls nowadays wear Kada on their hands, gold Kada will look very beautiful and classy on girls' hands. You can mix and match your bangles with the watch and many other things. Matching your bangle with your watch will look good. Even just married women wear lots of gold bangles on their wrists. The gold bangle is studded with precious stone like a diamond which looks very classy. You will get every type of design you want in the jewelry shop. Bangles are a part of Indian culture. In India women who are married are told to wear bangle as bangles are a sign of safety. There is a shop in Jaipur where you will get every kind of bracelets as they are bracelets jewelry manufacture.
The Best Jewelry Manufacturing Companies in India
Are you in search of the best jewelry manufacturing companies in India? Then you are certainly in the right place. DWS Jewellery Pvt. Ltd. is a renowned jewelry manufacturer in India. Being established in India doesn't mean that they and their services are only limited to India. DWS Jewellery Pvt. Ltd. is boundless in the field of jewelry manufacturing and repairing sector. They are neither a new name in this sector nor a name that is too old in its processes. From the manufacturing of gold and diamond jewelry to sterling silver and aventurine gemstone jewelry, the DWS Jewellery Pvt. Ltd. has all of them. However, the popularity that it gained in such less time is not only because of its multiple services and expertise but is also because of its uniqueness in creativity.
That the DWS Jewellery has its name included in the top and the best jewelry manufacturing companies in India. After that their growth continued exponentially, to make them the best jewelry manufacturers across the globe. They are among the top list manufacturers of bangles, bracelets, cuffs, earrings, rings, pendants, and necklaces. Anyone who is in a need of trustworthy jewelry manufacturers can simply choose a product manufactured by DWS Jewellery Pvt. Ltd. in order to get an astounding service and jewelry of astonishing quality. Trusting a renowned name is better when you are seriously reluctant against any scam or any spurious seller. If you are a jeweler, a brand, or a designer, DWS Jewellery is the most suitable and the best option for your great business. There are numerous wholesale jewelry stores all over the world that are in partnership with DWS Jewellery Pvt. Ltd., for manufacturing high-quality jewelry products.
The authenticity of the quality of a jewelry product manufactured by DWS Jewellery is rarely needed to be tested. Their uniqueness and creativity are their forte. Their scale as a jewelry manufacturing company is so high that there are only a few in the competition at that level. We believe in attitude with gratitude and are thus focused on their own improvement, instead of being indulged in any competition and thus they are a renowned brand and not only a name among other jewelry manufacturers.
Jewelry Making Process
Jewelry making is an art that defines the creativity and talent of a designer. High-quality based jewelry defines the authenticity and social status of individuals. While manufacturing any product some cost gets involved in a process in the form of fixed and variable manufacturing costs. Are you creating a jewelry line? You have come to the right place. Below we have mentioned Jewelry making process. Let's see how.
Jewelry Casting: Jewellery casting is an art that has been in existence for thousands of years. Since the time an artisan melts the metal into cavities shaped in stone, plaster, and sand, and cuttlefish bone. With the help of advanced technologies, jewelry casting is more dynamic than ever. Melting of metal is done by wax jewelry casting. Through this process, an artisan can make unique and high-quality based metal jewelry pieces.
Most jewelry that is manufactured starts off with a wax pattern. Jeweler takes the wax pattern and uses plaster to create an "invested mold"
Once the mold is prepared, Jewellery makers put it into an oven.
In the oven, all the wax will melt out and then manufacturers will pour the molten metal into the hollow cavity.
After half an hour manufacturers will throw the mold into a bucket of cold water. And then pull the pieces of jewelry from the mold slowly.
Jewelry Filling: It is one of the most essential processes of jewelry making. In this process, the jewelry makers remove excess metals, even out of the surface to give a smooth and clean shape. There are several methods of filling metals and the actual files come in a variety of shapes, grades/cuts, and sizes.
Filling Technique For A Straight Line: When jewelry makers do the filling for a straight line, they first check whether the metal is secured, as an unstable bench peg/metal will lead to mistakes and inaccuracies. While filling for straight-line take the help of a long stroke to apply the pressure on the forwarding stroke. Follow this process until you reach the last stroke.
Filling Technique For Curves: In this technique, jewelry makes use of a flat-file-faced file and pushes forward using a sweeping action.
Jewelry Polishing: With the help of a wide range of machines and handy tools jewelry makers are skilled at jewelry polishing. First artisans take a wheel and shape the contour surfaces. In the next step polishing the jewelry that, it reveals shininess. Once the desired polishing is achieved, various textures and finishes can be applied to the specified surface of the jewelry. When all jewelry dye-making process is complete, all the surfaces of the jewelry will be cleaned.
Stone Setting: When the stone is completely ready then the next process of a jeweler maker to set the stone into a piece of jewelry? Sometimes stones sourced might not be fit in a piece then it is sent back to the lapidary for cutting. Keep in mind in the jewelry-making process; polishing and cleaning are always done before setting a stone into a piece.
Jewelry Plating: Basically, jewelry plating means covering a piece of polished metals with gold, silver, platinum, and so on. Make sure while plating a metal the surface must be cleaned. First jewelry makers do surface preparation in which includes stripping, polishing, sandblasting, tumbling, etc. The alkaline cleaners and acid etch are used to remove the dirt and oil. After the surface is prepared, electro cleaning, ultrasonic cleaning, or steaming usually takes place. After cleaning, the piece of jewelry resin in water to remove any cleaning agents and then hang out it dry.
Jewelry Quality Check: Before delivering jewelry to customers, an inspection is very necessary. For that jewelry makers passed jewelry in a tested machine. Then send deliver to a customer.
Jewelry Packing: Packing jewelry signifies the class of jewelry shop. As the jewelry is very precious ornaments it must be packed in a cover that looks royal, handy, and protectable.
Final say:
So, this is the entire jewelry-making process. I hope now you understand how to make jewelry effortlessly.
Get Silver Jewellery Casting From DWS Jewelley Pvt. Ltd. With The Cheapest Prices
Silver jewelry casting is a process in the manufacturing unit. This process involves the conversion of the liquid metal which is base (here silver) is poured into a mold of needed shape. The mold is of a hollow type. The poured metal is allowed to cool and solidify which is then separated from the mold for further processing. The solidified metal will attain now a new shape as that of mold.
The casting of jewelry is an art from the past which has existed over for many years. Though, there are recent developments in the casting industry, where fine-tuning of shape and tenderness is obtained. The old traditional methods were still used for the quality making of precious ornaments. We shall see the methods that we are using in our silver jewelry casting in our industry.
Wax Casting
Any type of design can be prepared from the wax. This object is used as the mold and the molten silver is poured into the mold for getting the desired shape of the metal. This is a traditional technique and has been used vastly. This technique is followed by a dentist who has often used it for creating teeth from the wax mold. Jewelers have found this technique as a cost-effective one and followed this step.
The best thing about the wax casting technique is the jewelers' creativity. Wax can attain any shape of the desired form. Hence it is easy to create a shape of wax if it is not so attained the wax has again been melted to its original state. This involves low costing as the cost of raw material for mold is too low. Sometimes the rubber mold is prepared as a sample and from that lot of wax, molds are formed.
There are subtypes in the wax preparing methods. Sand casting uses the sand as a mold material which gives a textured grained look for the jewels. Water casting is the way of creating free-form objects. Metal is poured into the water and cooled to the desired shape which is at last formed. Steam casting is the way the metal can be cast by using steam to mold the metal.
Silver is the most difficult object to cast than gold. It is because gold involves an alloying of several metals like copper, white gold has nickel and a small amount of zinc. Zinc act as a de-oxidizer with other metals which prevents the metal from oxidizing in the air. Since there are certainly no de-oxidizers found in the melting of sterling silver, there is a possibility of including copper oxides in metal and a chance of occurring gas porosity.
The silver jewelry casting consists of many modules. On completion of each process correctly the final product is the high-quality casting jewel. The final quality depends on the direct proportionate to the number of modules before the final stage which has been performed most correctly. Since sterling silver gives a good finish when compared to other gold alloys after casting, it is important to perform those smaller processes perfectly so that the final silver cast object is what we desired.
Since our silver jewelry casting team involves traditional and trained artisans. They are well versed in every nook and corner of making the silver jewel at most clear without any gas porosity or other issues. We are able to provide good molded silver jewelry at this affordable price when compared to others in the market. Hence, you cannot find even a single defect in our process as we have employed only the trained and crafted workers who have an ample amount of experience in this silver casting industry.