PAYMENT WITH NO RISK
Trust is the bedrock of all online shopping transactions. Without secure, fraud-proof payment methods, all online transactions are doomed to failure. In our efforts to allay our customers' reservations and fears about online payment we accept Payments by Five secured methods so that you can select the most easy and convenient way which suits you best.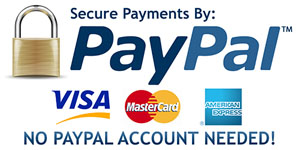 1. Online Credit card payment Through Paypal
We accept Visa, Master, American Express and JCB cards through our secure payment gateway. After you finish adding items into your shopping cart, simply press the checkout button at the bottom of the page Then press Online credit card payment icon on the nest payment options page.
Enter your credit card information on the next page page and click Submit. All credit card transactions are protecting by 128-bit Secure Socket layer, to encrypt your information when you send it to us.
A notification email will be sent to you within minutes confirming payment and your order will be processed immediately.
What You See is What You Get
www.dwsjewellery.com has made every effort to display the Jewelry as accurately as possible. All products have been described with weight,Accurate Stone Detail,Accurate New Weight,Accurate Purity. However, we are aware that colors and images vary slightly according to the monitor they are viewed on. So actual and original product color look slightly different. This is unavoidable, but we are sure that all customers will be delighted with their items upon receipt.
2. Pay by Wire Transfer
Wire transfers can be submitted with the help of your banking institution. Please Email Us For Wire Information.
Paying With Paypal
Please mention in advance if you need any other supporting document which is desirable to import or clearance from customs these goods in your country such as certificate of origin . This is buyer responsibility to inform about it advance.
What Is PayPal?
PayPal is a free account-based system that provides the most secure, instant and convenient online payment available today. To protect customer security and privacy, PayPal uses the latest technology and strict protocols to keep your personal information safe.
What Do I Do?
After adding items into your shopping cart, simply click on the Check Out button and follow the Continue prompts until you reach the PayPal website. Please note that once you have checked out further items cannot be added to your transaction. If you are not already a PayPal member, once at PayPal you will need to complete their quick and easy registration. Please note that it is free to become a member of PayPal.
How Does PayPal Work?
After you have checked out your items and signed up for a PayPal account, you will be taken to a transaction page. Here you will be able to review the details of your order, including the total purchase amount. You may pay for your purchase securely and instantly using funds from your PayPal account or you can send payment to PayPal via credit card (VISA, MasterCard, Discover & American Express), debit card, eCheck or bank transfer. Once payment is approved, PayPal will immediately notify us by email. Once your order is processed, we will ship your order to your door by the guaranteed 1-2 weeks by FedEx global delivery service. Once your order has been shipped, we will email you a tracking number so you can track your shipment at the FedEx website.
We accept payment via T.T. only from our resellers.