Written By

Team DWS

October 19, 2023
Merry Christmas: Origin, Definition, Traditions, History, & Facts
Christmas is one of the most celebrated holidays worldwide, widely recognized for its joyful atmosphere, gift-giving, and festive decorations. It originated from the Christian tradition, but its celebration has evolved over time, encompassing various cultural and religious practices. In this article, we will explore the origin, definition, traditions, history, and facts about Merry Christmas.

Origin:
The word Christmas is derived from the Middle English word, "Christemasse," which means "Christian mass." It is celebrated in honor of the birth of Jesus Christ, believed to be the Son of God by Christians. The precise date of Christ's birth remains debatable; however, the early Christians chose December 25th as the official date to celebrate this joyous event.
Definition:
"Merry Christmas" is a customary greeting exchanged during the Christmas season, conveying well-wishes and happiness to loved ones and friends. The phrase encapsulates the overall spirit of the holiday, emphasizing the importance of spreading love, joy, and goodwill.
Traditions:
Christmas traditions vary across countries and cultures, but some universally recognized customs include decorating Christmas trees, exchanging gifts, attending religious services, singing carols, feasting with family and friends, and participating in various charitable activities. Additionally, the figure of Santa Claus, known as Father Christmas, Saint Nicholas, or Kris Kringle, is central to many Christmas celebrations, especially for children who eagerly anticipate receiving gifts from him.
History:
The history of Christmas dates back to ancient pagan festivals and winter solstice celebrations. In the 4th century, the Roman Emperor Constantine adopted Christianity as the state religion, leading to the assimilation of certain pagan customs into the Christmas celebration. Over time, Christmas became more focused on commemorating the birth of Jesus Christ, serving as an occasion for spiritual reflection and joyous festivities.
Facts:
The first recorded Christmas celebration on December 25th took place in Rome in the year 336 A.D.
The famous Christmas carol, "Silent Night," was composed in 1818 by Franz Xaver Gruber and is sung and cherished worldwide.
The tradition of exchanging gifts during Christmas originated from the gifts presented to the baby Jesus by the Three Wise Men.
The Christmas tree tradition became widespread in the 18th century, originating in Germany, and was popularized by Queen Victoria and Prince Albert during the Victorian era in Britain.
In Iceland, the Christmas season involves the belief in thirteen "Yule Lads," who punish or reward children based on their behavior.

Merry Christmas is a beloved holiday celebrated worldwide, holding significance for both religious and secular communities. It is a time for joy, compassion, and togetherness, as people come together to honor their traditions, share love and kindness, and create lasting memories. Whether you celebrate Christmas for its religious or cultural significance, the main essence remains the same - to spread merriment and goodwill among all.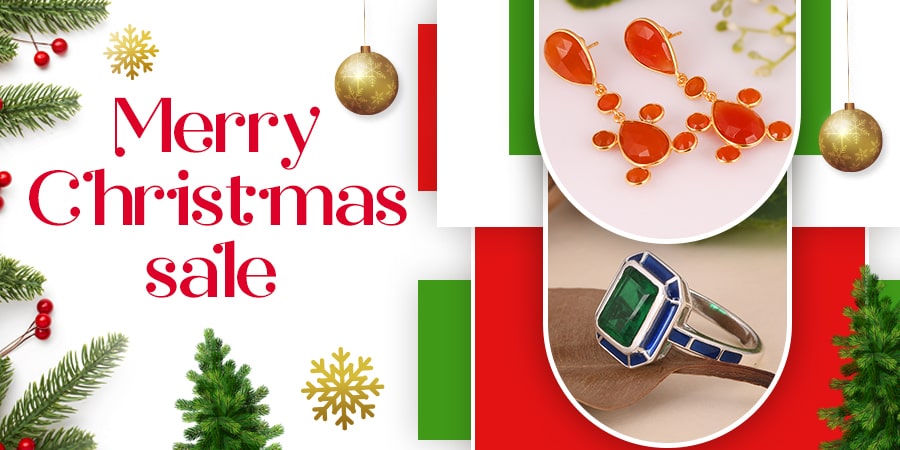 DWS Jewellery's Christmas Sale FAQs
1. When does the DWS Jewellery Christmas Sale start and end?
The DWS Jewellery Christmas Sale starts on 1st Dec and ends on 25th Dec 2023.
2. What products are included in the Christmas Sale?
The Christmas Sale includes a wide range of our products, including earrings, bracelets, necklaces, rings, and more.
3. How much discount can I expect during the Christmas Sale?
The discount percentage may vary from product to product. However, you can expect generous discounts of up to 20% off on selected items (Ready Stock Only).
4. Can I use additional coupon codes or promotions during the Christmas Sale?
During the Christmas Sale, additional coupon codes or promotions may not be applicable. However, any ongoing store-wide promotions or discounts will be automatically applied.
5. Are there any exclusions during the Christmas Sale?
While most of our products are included in the Christmas Sale, a few items may be excluded from the promotion. This may include limited edition items, personalized/customized pieces, and certain high-demand products.
6. Can I return or exchange items purchased during the Christmas Sale?
It depends on the store's return or exchange policy. Some stores may have special rules for items purchased during sales, so it is best to check with the specific store where the items were purchased.
7. Will all sizes and variations be available during the Christmas Sale?
We strive to ensure all sizes and variations are available during the sale. However, due to high demand, certain sizes or variations may go out of stock quickly. We recommend placing your order as early as possible to secure your preferred options.
8. Can I shop online and in-store during the Christmas Sale?
Absolutely! You can enjoy the Christmas Sale both online on our website and at our physical store locations.
9. How can I stay updated on the latest Christmas Sale offers and promotions?
You can stay updated on the latest Christmas sale offers and promotions by subscribing to newsletters or following social media accounts of your favorite retailers. Additionally, you can regularly check deal websites or sign up for price tracking services that notify you of discounts and deals.