Written By

Team DWS

November 18, 2023
Citrine: Exploring its Meaning, Healing Properties, Fascinating Facts, Powers, Versatile Uses, and Much More
Introduction to Citrine
Citrine, with its warm golden hues, has captured the attention and imagination of people for centuries. This beautiful gemstone, commonly associated with wealth and prosperity, holds a treasure trove of fascinating facts, healing properties, and versatile uses. Whether you are a gemstone enthusiast, a crystal healer, or simply intrigued by its beauty, this article will delve into the depths of Citrine, shedding light on its meaning, properties, and much more.

The Meaning of Citrine
Citrine derives its name from the French word "citron," which translates to lemon. It has gained the reputation of being the "merchant's stone" or the "stone of abundance," as it is believed to attract wealth and success. Associated with the solar plexus chakra, Citrine is said to enhance confidence, vitality, and personal power. This gemstone carries the energy of the sun, radiating warmth and positivity, making it a popular choice for jewelry and meditation practices alike.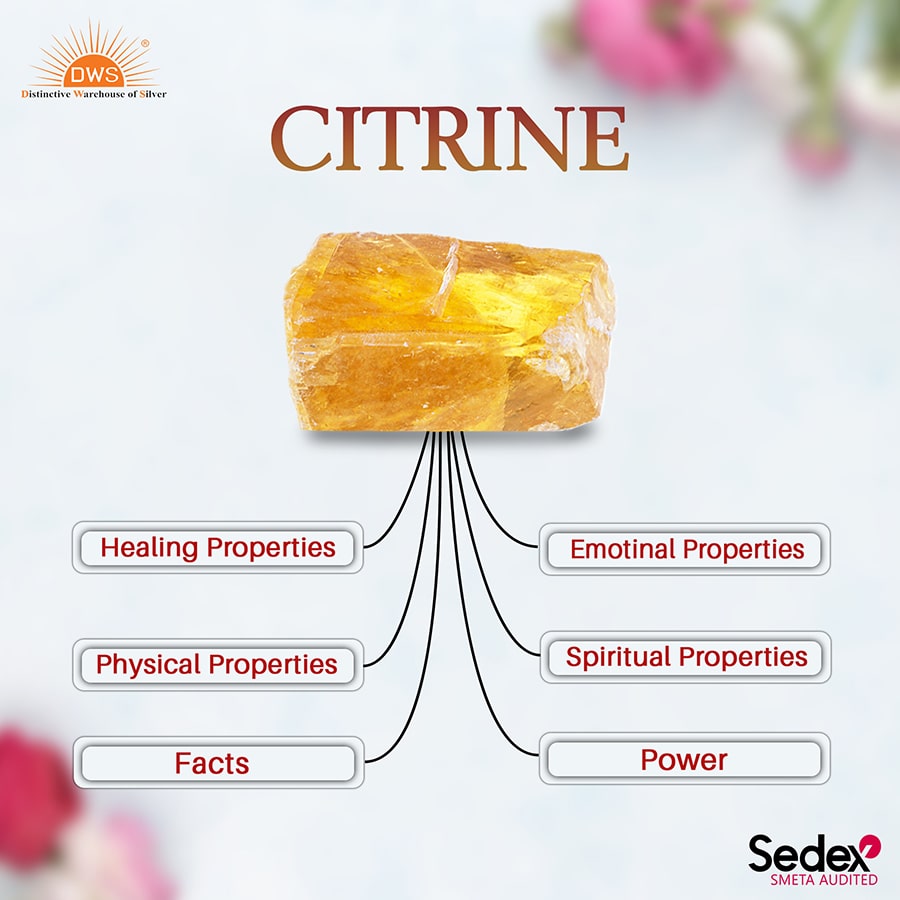 Healing Properties of Citrine
Beyond its aesthetic appeal, Citrine is renowned for its remarkable healing properties. This gemstone is said to support emotional well-being, stimulate mental clarity, and promote creativity. It is believed to dissipate negative energies, replacing them with a sense of joy and optimism. Citrine is also thought to aid digestion, boost metabolism, and enhance overall vitality. Crystal healers recommend placing Citrine over the solar plexus chakra to promote balance and harmony within the body.

Fascinating Facts about Citrine
Often mistaken for yellow topaz, Citrine is actually a variety of quartz. Natural Citrine is quite rare, with most commercially available Citrine being heat-treated amethyst or smoky quartz.
The largest Citrine discovered to date weighs a whopping 20,200 carats and can be found on display in the Smithsonian Institution.
Ancient civilizations, including the Greeks and Romans, believed Citrine possessed the power to ward off evil thoughts and protect against snake venom.
Citrine is commonly associated with the zodiac signs of Aries, Gemini, Leo, and Libra.
Citrine Spiritual Properties:
Citrine is a beautiful and vibrant crystal with a deep connection to the sun, embodying warmth, abundance, and vitality. Its spiritual properties are widely recognized and revered by many ancient cultures.

One of the most notable spiritual properties of citrine is its ability to attract wealth, success, and prosperity. It is often called the "merchant's stone" as it is believed to bring success in business and increase financial abundance. Citrine stimulates the mind and creative energy, allowing for new ideas and ventures to flourish.

Moreover, citrine is known to promote joy, positivity, and self-confidence. It radiates a powerful energy that helps release negative emotions such as self-doubt and depression, bringing forth a sense of optimism and enthusiasm. It is also believed to enhance personal power, encouraging manifestation of desires and setting clear intentions.

Citrine is a highly protective stone, promoting spiritual growth and cleansing the aura. It is believed to absorb negative energies and transmute them into positive vibrations. It also helps to clear and activate the chakras, especially the solar plexus chakra, which is associated with personal power and abundance.

In conclusion, citrine is a remarkable crystal with an array of spiritual properties that can greatly benefit one's well-being and spiritual journey. Its vibrant and radiant energy invites success, joy, and abundance, while also providing protection and spiritual transformation.

Citrine Metaphysical Properties:
Citrine, often referred to as the "merchant's stone," is a vibrant and radiant crystal known for its positive energy and numerous metaphysical properties. This beautiful yellow gemstone is associated with success, abundance, and wealth, making it a popular choice among those seeking financial prosperity.

One of the key metaphysical properties of citrine is its ability to attract wealth and prosperity into one's life. It is believed to stimulate the flow of abundance and open the doors to new opportunities and possibilities. Citrine is also said to enhance one's creativity and increase motivation, making it an ideal crystal for entrepreneurs and individuals seeking success in their endeavors.

Additionally, citrine is known for its ability to bring positive energies and uplift the spirits. It is often regarded as a powerful cleanser and regenerator, capable of dispelling negative energies and transforming them into positive ones. This crystal is believed to enhance clarity of thought and provide mental clarity, promoting a sense of confidence and self-worth.

Furthermore, citrine is associated with the solar plexus chakra, which governs personal power and self-esteem. It is said to bring a sense of empowerment and self-confidence, enabling individuals to overcome fears and obstacles that may hinder personal growth.

In conclusion, citrine is a remarkable crystal with strong metaphysical properties. Its ability to attract abundance, enhance creativity, and promote positive energies has made it a highly sought-after gemstone for those seeking success, prosperity, and personal growth.

Citrine Emotional Properties:
Citrine is a beautiful yellow stone that not only dazzles in jewelry but also exudes powerful emotional properties. Its vibrant energy is known to bring joy, happiness, and abundance into one's life while helping to heal emotional wounds and promote self-confidence.

The emotional properties of citrine are closely linked to its connection with the solar plexus chakra, which is responsible for self-esteem, personal power, and confidence. By wearing or meditating with citrine, individuals can tap into its energy to boost their self-esteem, overcome fears, and improve their emotional well-being.

Citrine is also known to combat negative emotions such as depression, anxiety, and anger. Its warm, sunny energy uplifts the spirit, dispelling any feelings of darkness or low moods. Furthermore, this gemstone can help individuals overcome emotional traumas and promote emotional healing by encouraging forgiveness, self-acceptance, and inner peace.

In addition to its emotional healing abilities, citrine is believed to attract abundance and prosperity. It is regarded as a stone of success and wealth, encouraging individuals to take action and seize opportunities. By wearing citrine or placing it in a prominent location, individuals can harness its positive energy to manifest their goals and aspirations.

In summary, citrine's emotional properties include joy, happiness, abundance, self-confidence, emotional healing, dispelling negative emotions, attracting success, and promoting prosperity. Whether worn as jewelry, placed in a living space, or used in meditation, this gorgeous gemstone can have a profound impact on one's emotional well-being.

Powers of Citrine
Citrine is widely regarded for its diverse array of powers. Here are some notable ones:

Manifestation: It is believed that Citrine aids in manifesting one's desires, helping to sow seeds of intention and attract abundance into one's life.
Cleared Energies: Citrine is said to cleanse and energize other crystals and gemstones, making it a valuable tool for crystal users and collectors.
Cognitive Enhancement: Some individuals claim that Citrine helps improve concentration, memory, and mental clarity, making it a favored stone among students and professionals.
Versatile Uses of Citrine
Jewelry: Citrine's vibrant yellow color adds a touch of radiance to any jewelry piece. From earrings and necklaces to rings and bracelets, this gemstone's versatility allows it to be fashioned into various stunning designs.
Home Decor: Placing Citrine crystals in your living space is believed to bring warmth, abundance, and positive energy into the home. Decorative items such as citrine geodes or clusters can be displayed prominently to create an inviting and harmonious atmosphere.
Meditation and Spiritual Practices: Citrine's uplifting energy makes it an excellent companion for meditation and spiritual practices. Holding a Citrine crystal or placing it near your meditation space can help enhance focus, clarity, and overall spiritual growth.
Conclusion
Citrine's beauty, meaning, healing properties, and versatile uses make it a remarkable gemstone that has captivated humanity for ages. Whether you choose to wear it, display it, or use it in spiritual practices, Citrine's vibrant energy can bring joy, prosperity, and balance into your life. So, immerse yourself in the world of Citrine and experience the wonders it has to offer.