Written By

Team DWS

October 17, 2023
Cyber Monday: Origins, History and Development
In the digital age, online shopping has become an integral part of our lives. And one of the most awaited days for online shopping enthusiasts is none other than Cyber Monday. Falling on the Monday after Thanksgiving, Cyber Monday offers incredible deals and discounts on various online platforms. But have you ever wondered about the origins, history, and development of this popular shopping holiday? Let's explore the fascinating journey of Cyber Monday.

Origins:
The term "Cyber Monday" was coined by Ellen Davis and Scott Silverman in a press release on November 28, 2005. The National Retail Federation (NRF), along with Shop.org, wanted to highlight the increase in online sales the following Monday after Thanksgiving, as more people returned to work and used their office computers to shop online. The term "Cyber Monday" was intended to encourage people to make purchases online by capitalizing on the popular "Black Friday" shopping frenzy.
History:
The first Cyber Monday took place on November 28, 2005, with a substantial increase in online sales compared to previous years. Online retailers began offering significant discounts and promotions to entice shoppers, leading to an exponential growth in e-commerce sales on this particular day. As more people became comfortable with online shopping and e-commerce platforms improved their services, Cyber Monday gained popularity year after year.
Development:
With the exponential growth of e-commerce, Cyber Monday has evolved and transformed since its inception. Initially, it primarily catered to desktop users, as smartphones were not as prevalent. However, as technology advanced, mobile shopping became more accessible and popular. Retailers have adapted to this shift by optimizing their websites and creating mobile apps, ensuring a seamless shopping experience for mobile users.
Moreover, the advent of social media and its role in marketing and advertising has played a significant role in Cyber Monday's development. Retailers now use various social media platforms to promote their deals, reach a broader audience, and create buzz around Cyber Monday. Social media influencers and celebrities also collaborate with retailers, further fueling the excitement and boosting sales.
Additionally, the duration of Cyber Monday has expanded beyond a single day. Many retailers now offer extended sales, starting on Thanksgiving or Black Friday, and stretching through the following week, creating what is often referred to as "Cyber Week."
As consumers increasingly seek convenience and time-saving options, Cyber Monday has cemented its place in the retail calendar. It has become a much-anticipated event, attracting millions of online shoppers worldwide who are eager to snag the best deals from the comfort of their homes.
Conclusion:
Cyber Monday's origins may be relatively recent, but its impact on the retail industry is undeniable. From coining the term to a significant increase in online sales, this shopping holiday has come a long way. As technology advances and e-commerce continues to flourish, Cyber Monday's history and development will remain an exciting story to follow. So, mark your calendars and get ready to explore the myriad of deals that await you on this digital shopping extravaganza.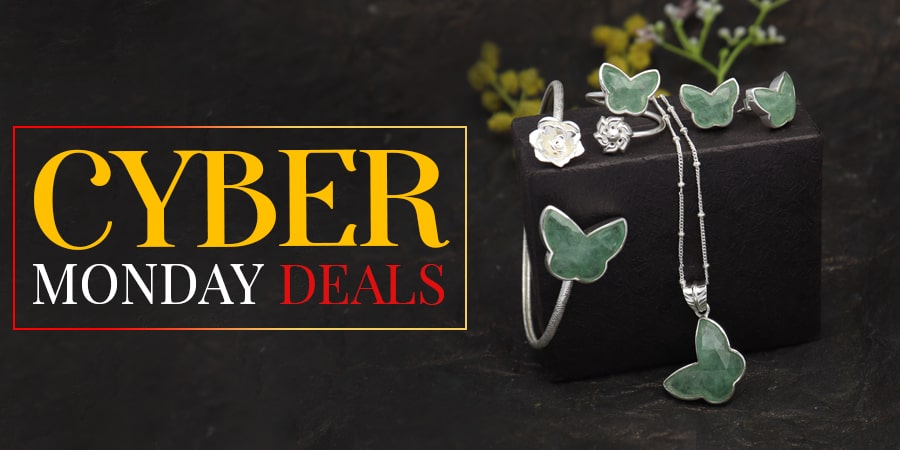 Cyber Monday Deals FAQs at DWS Jewellery
Q: When is Cyber Monday this year?
A: Cyber Monday falls on the Monday following Thanksgiving, which means it will be held on 27 Nov 2023.
Q: What is DWS Jewellery's Cyber Monday Deals?
A: DWS Jewellery's Cyber Monday Deals refer to exclusive discounts and promotions offered on our website, specifically during the Cyber Monday sales event.
Q: Are the deals available only online?
A: Yes, DWS Jewellery's Cyber Monday Deals are exclusively available for online purchases. These promotions and discounts cannot be redeemed in physical stores.
Q: How can I stay updated about DWS Jewellery's Cyber Monday Deals?
A: To receive updates about Cyber Monday Deals, we recommend subscribing to our newsletter, following our social media accounts, and regularly checking our website for the latest promotions.
Q: Are there any specific terms and conditions for Cyber Monday Deals?
A: Yes, some terms and conditions may apply to our Cyber Monday Deals, such as limited stock availability, specific promo codes required, or discounts applicable only to selected items. It is essential to read the details of each deal carefully to ensure eligibility and understand any associated conditions.
Q: Can Cyber Monday Deals be combined with other promotions or offers?
A: Typically, Cyber Monday Deals cannot be combined with other ongoing promotions or offers unless explicitly mentioned. However, it is always recommended to read the terms and conditions of each deal to gain clarity regarding combining offers.
Q: How long do Cyber Monday Deals last?
A: DWS Jewellery's Cyber Monday Deals typically run for 24 hours, starting on Monday and ending at 11:59 pm on the same day. However, specific promotions or time-sensitive flash deals may have different durations, as mentioned in their respective descriptions.
Q: Do Cyber Monday Deals guarantee availability of products?
A: While we strive to maintain sufficient stock levels for our Cyber Monday Deals, popular items might sell out quickly due to high demand. We encourage customers to make their purchases as soon as possible to secure the desired products.
Q: Is there a limit on the quantity of products I can purchase during Cyber Monday Deals?
A: Unless otherwise mentioned, there is no set limit on the quantity of products you can purchase during our Cyber Monday Deals. However, certain items may be subject to quantity restrictions due to limited stock or promotional considerations.
Q: Can I return or exchange items purchased during Cyber Monday Deals?
A: Our standard return and exchange policies apply to items purchased during Cyber Monday Deals. Please refer to our Returns and Exchanges policy on our website for detailed information regarding eligibility, timelines, and procedures.
Q: How can I contact customer support for Cyber Monday Deals-related queries?
A: For any queries or support related to our Cyber Monday Deals, you can reach out to our customer support team through +91 916-682-8406. We will be happy to assist you and address any concerns you may have.