Written By

Team DWS

October 30, 2023
Blue Chalcedony: Unveiling the Meaning, Healing Properties, Facts, Powers, Uses, and More
Introduction:
Blue Chalcedony is a captivating gemstone known for its beautiful blue color and mystical properties. Its association with tranquility and divine energy has made it a popular choice among jewelry enthusiasts and spiritual individuals. In this article, we will delve into the meaning, healing properties, facts, powers, uses, and more of this enchanting gemstone.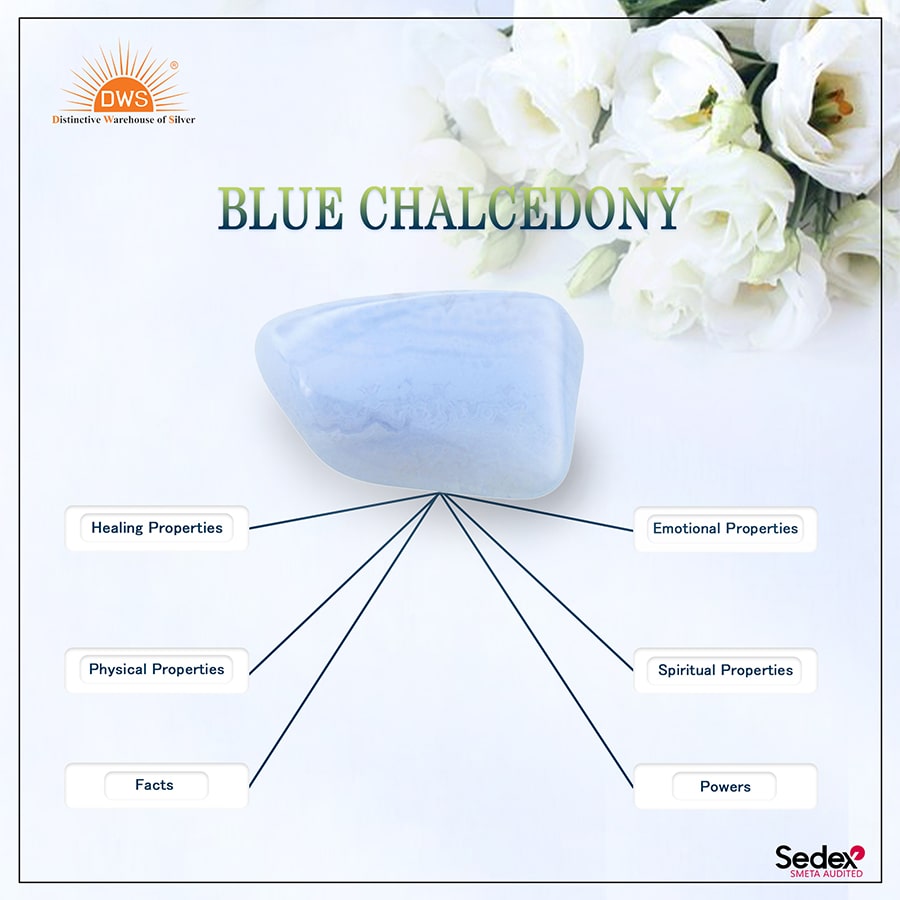 Meaning and Symbolism:
Blue Chalcedony derives its name from the Greek term "chalcedon" which means a type of quartz. Ancient civilizations revered this stone for its calming and soothing properties. It is believed to promote feelings of peace, harmony, and tranquility, making it an excellent stone for relaxation and meditation. Symbolizing purity and gentle energy, Blue Chalcedony is often associated with communication and emotional healing.
Healing Properties:
Blue Chalcedony is renowned for its various healing properties, both spiritually and physically. It is believed to enhance communication skills, encouraging open and honest dialogue. The calming energy of this stone aids in reducing anxiety, stress, and feelings of restlessness. Blue Chalcedony is also known to boost creativity, intuition, and mental clarity. Additionally, it promotes emotional healing by easing emotional trauma and promoting overall emotional well-being.
Facts About Blue Chalcedony:
Blue Chalcedony is a relatively common gemstone found in various parts of the world, including Brazil, USA, South Africa, and India.
It belongs to the cryptocrystalline variety of quartz, which means that its crystals are microscopically small and often not visible to the naked eye.
The color of Blue Chalcedony ranges from pale blue to sky blue, and it may also exhibit white or grey inclusions.
In ancient times, Blue Chalcedony was often used to make seals and amulets due to its association with divine protection and warding off negative energies.
It is believed to be an excellent stone for those who struggle with public speaking or expressing themselves confidently.
Blue Chalcedony: Exploring its Emotional, Physical, and Spiritual Properties
Blue Chalcedony is a beautiful and mesmerizing gemstone known for its calming and soothing energies. It belongs to the Quartz family and can be found in various shades of blue, ranging from pale pastel to deep ocean hues. This stone has been valued for centuries for its emotional, physical, and spiritual properties.

Emotionally, Blue Chalcedony is often referred to as a stone of serenity and tranquility. Its gentle vibrations can help alleviate feelings of anxiety, stress, and depression. By bringing a sense of peace and harmony, it assists in calming emotional turmoil and promoting a positive mindset. It encourages emotional balance and enhances communication skills, making it an excellent stone for those who struggle with self-expression or confrontation.

Physically, Blue Chalcedony is believed to have numerous healing properties. It is commonly associated with the throat and third eye chakras, making it ideal for those seeking improvement in their communication and intuition. This crystal is also known to alleviate throat and voice-related issues, including vocal strain, sore throat, or difficulty expressing oneself verbally. Additionally, it has been linked to promoting healthy sleep patterns and reducing insomnia.

Spiritually, Blue Chalcedony is thought to enhance spiritual growth and connection. It aids in developing a strong connection to one's intuition and higher self, facilitating a deeper understanding of oneself and the universe. By clearing energetic blockages, it allows for the free flow of energy and assists in aligning the mind, body, and spirit. This stone is also believed to enhance psychic abilities and intuition, making it a valuable tool for those practicing divination or energy work.

To maximize the benefits of Blue Chalcedony, it is recommended to keep it close to the body or wear it as jewelry. Meditating with this stone can deepen its effects and foster a sense of tranquility and clarity. Blue Chalcedony can also be placed in the bedroom to promote restful sleep or utilized during creative endeavors to aid in self-expression and communication.

Blue Chalcedony is a captivating gemstone with a wide range of emotional, physical, and spiritual properties. Its calming and soothing energies make it an ideal companion for promoting peace, harmony, and self-expression. Whether you are looking to enhance your communication skills, tap into your intuition, or simply invite a sense of serenity into your life, Blue Chalcedony can be a powerful ally in your journey towards holistic well-being.

Powers and Uses:
Spiritual Connection: Blue Chalcedony is known to connect its wearer with higher realms and divine energies. It aids in spiritual growth, enhances intuition, and promotes a deeper connection with the inner self.
Communication Aid: This gemstone is regarded as an excellent tool for improving communication skills. It encourages effective and open expression, making it a valuable aid for public speakers, teachers, and those in leadership roles.
Emotional Healing: Blue Chalcedony brings emotional healing and stability. It aids in resolving emotional trauma and promoting forgiveness, compassion, and self-love.
Physical Healing: This gemstone is believed to have a positive impact on various physical ailments. It is said to aid in improving memory, reducing symptoms of dementia, boosting the immune system, and soothing throat-related issues.
Ways to Use Blue Chalcedony:
Jewelry: Blue Chalcedony is often used in jewelry, such as pendants, rings, bracelets, and earrings. Wearing it close to the body allows for a constant connection with its healing energies.
Meditation: Holding or placing Blue Chalcedony during meditation can enhance relaxation and aid in accessing a deep meditative state. It helps in quieting the mind and promoting inner peace.
Home Decor: Blue Chalcedony can be placed in various areas of the home to promote a calming and peaceful atmosphere. It is often used near workspaces or in bedrooms to encourage tranquility.
Conclusion:
Blue Chalcedony, with its mesmerizing blue hue and powerful properties, continues to enchant individuals seeking spiritual growth, emotional healing, and overall well-being. Its association with peace, communication, and divine energies make it a cherished gemstone in the world of jewelry and metaphysical practices. Whether worn as jewelry, used during meditation, or displayed in homes, Blue Chalcedony brings forth its calming and soothing energies to uplift and heal all those who engage with its mystical powers.