Written By

Team DWS

November 04, 2022
How To Select A Custom Jewelry Manufacturer?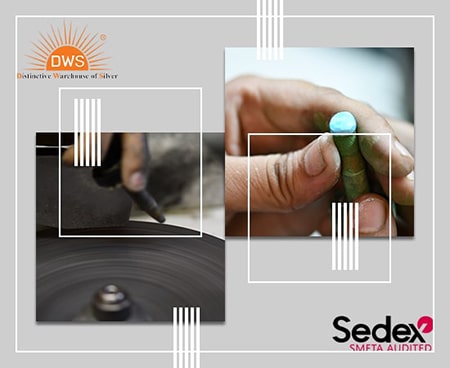 One of the first things on your mind when you finally decide to get a custom jewelry piece involves finding the best custom jewelry maker.

Isn't that true? And this could be for a variety of reasons. Perhaps this is the first time you opted to design a piece of jewelry yourself and are worried about how a custom jewelry factory works as well as other jewelry manufacturers.
Or you could have had some experience in the past where you approached a jewelry maker who failed to understand your needs and hence came up with a piece that was less than what you expected from him.
Either way, don't worry! Experts at DWS Jewellery show you how to approach the right custom jewelry manufacturer in India and what you need to know to be sure that this is the perfect custom jewelry maker for you.
Factors to Consider When Selecting a Reputed Jewelry Manufacturer
Customizing jewelry is an intricate process and requires the right maker to ensure your imagination comes alive.
The following tips will help you select the best custom jewelry manufacturer:
•Trust and Authenticity
It is one of the first things you should look for when approaching any jewelry manufacturer, considering the growing industries and the endless possibilities of duplicity and deception.

Make sure you conduct a perfect study and research on every jewelry manufacturer you are approaching. The process may be time-consuming, but in the end, you will be glad to know that you saved yourself from getting cheated. This should not be difficult, considering that we live in the internet age.
Try to gather all the reviews.
Find opinions from various sources until you are 200 percent sure that this is a reliable jewelry maker you can go ahead and work with.
And then, there's always the powerful social media presence that speaks tons about the brand you want to know more about and gives you a feel about whether or not you can place your trust in it.
If you're looking for jewelry manufacturers from around the globe, shortlist some of the most reliable countries that export jewelry. Once done, you can shortlist the ones that are the easiest to approach, as this can save you a lot of trouble too.



The Collection
Now, trust is not the one thing that you should stop at. Sometimes, the most reliable company can sadly fail to provide you with what you need.
Make sure that the platform you are approaching comes with the experience and expertise needed to suit your expectations and understand what you need.
And this is the reason you need to explore their collections before you further shortlist the ones that you think would be the best for your requirements and needs.
Because at the end of the day, a jewelry maker must have all the expertise needed to understand your ideas and expectations and provide you with the perfect piece of ornament and fulfill your dream.
A Few Things You Need to Look for When Browsing Their Regalia Collection Are:
Make sure that their collection includes a range of designs and diverse styles. In other words, if you find a colorful display of different pieces, this is probably the jewelry manufacturer that can also cater to your needs.

•Familiarity
Now that you have arrived at some of the most reliable jewelry makers, the next thing to do is to find someone who is the best for you. Find someone who can understand your needs and is the most comfortable to work with.

It makes it more important to find someone who can understand your sentiments better.
What more? You can even communicate in your language, which is always better when explaining your needs because you are looking for a customized piece and will have a lot of details to offer.
This way, you can be assured of reliable and comfortable customer service, which would otherwise be impossible for jewelry makers lacking an extensive and accommodating team.
•A Jeweler for Life
Make sure of all the above, and in the end, you will be sure to arrive at the right jewelry manufacturer that you will, from now, be approaching for all your needs.

It applies to individual customers, as well as, sellers looking for a custom jeweler who you can willingly approach time and again with new designs and get pieces that he can supply to you with perfection, helping you run your own jewelry business smoothly.
This will benefit you in the long run. You can simply provide details to the manufacturer to get your piece ready. This approach will also give him a feel of your requirements and needs, ensuring utmost customer satisfaction in time, and become your favorite jewelry factory whenever there is a need.
DWS Jewellery: Your Place For Customization and All Things Ornamental!

All that said, DWS Jewellery Pvt. Ltd. is one brand of jewelry in India that meets all of the above needs. Based in the RIICO Industrial Area in Jaipur, Rajasthan, India, the brand is trustworthy and guarantees complete openness in all transactions and dealings.
Headquartered in Jaipur, the capital of Rajasthan, the jewelry factory is one of the best choices for anyone looking to customize their jewelry in India, with an online store that one can easily approach with all their needs.
Here, one can even find a range of other jewelry in some of the latest styles and designs, so while you are designing your custom jewelry, you can also take some time out to look through the items in this store to see if you find for yourself a unique piece of jewelry.
From earrings to anklets, this store has jewelry of all kinds and in all materials and styles, from those pieces of fashion jewelry to pieces in 925 sterling silver and brass. The company makes jewelry in extensive gemstones and other precious stones. They follow traditional silver-making techniques, ensuring you get the best quality ornaments.
Head to DWS Jewellery Pvt. Ltd. to get your customized jewelry in a hassle-free and seamless way today!