Written By

Team DWS

November 04, 2022
Here's Why DWS Jewellery Must Be Your Go-To Jewelry Maker in India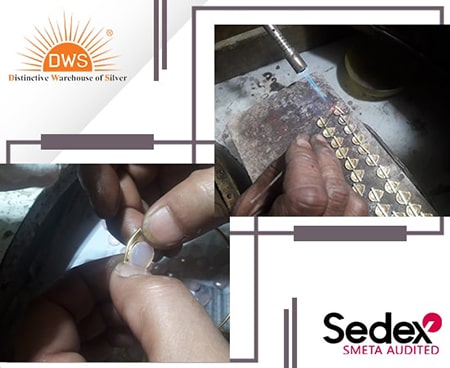 Sterling silver is a glamorous metal and offers extensive properties. It has 92.5 percent pure silver, hence its name, 925 sterling silver. The 7.5 percent addition of copper and other metals makes it robust and long-lasting. The bright and shiny sterling silver, when converted to fancy regalia, results in a timeless and classic ornamental selection. Moreover, combining silver and multiple gemstones offers mental and physical healing properties.

The metal also has great antimicrobial properties that help to treat infections. Wearing silver also helps to prevent illnesses like flu, cold, and more. It is also effective in healing wounds. The metal also supports body heat regulation and circulation.
Buying and selling jewelry is no easy task and requires finding a reputed silver jewelry manufacturer. Hence, choosing the right jewelry maker is one of the most important tasks, especially in India, where jewelry is a prominent part of the culture.
Tips for Selecting a Reputed Jewelry Manufacturer
There are multiple jewelry manufacturers out there who will claim to provide you with the best-quality ornaments, and there will always be those that don't live up to their words and only make you regret them in the long run for having approached them. Yes, jewelry factories can do a less-than-perfect job and offer less than what you need at times. So what do you do?
Check jewelry marking. Genuine jewelry always comes with hallmarks.
Check COA (certificate of authenticity).
Carry out research.
Explore facilities like customization, prices, and manufacturing compliances.
Check gemstone quality.
Verify the brand's online reputation.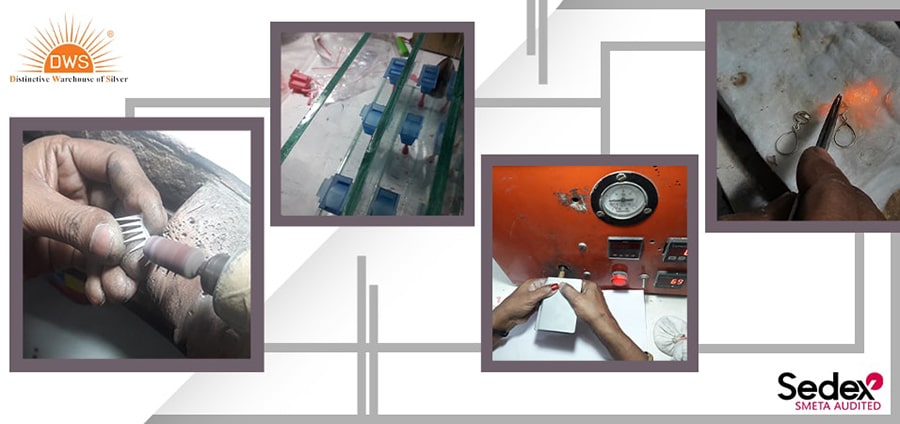 Here's why DWS Jewellery must be your go-to jewelry factory for sterling silver

DWS Jewellery is a leading custom jewelry manufacturer offering high-quality silver ornaments. Our pieces reflect our timeless commitment and the use of durable and top-class metals. In addition, every piece comes with an authenticity certificate.
Still not convinced about where we are best for your jewelry requirements? Here are a few more things you should know!
•Top Metal Quality
When it comes to jewelry, one feature that you cannot afford to miss is the quality. Be it gold, silver, precious stones, or even fashion jewelry, one of the first things a customer looks for apart from the design is the quality.
DWS Jewellery is a leading jewelry manufacturer featuring silver regalia of high-quality and necessary certificates proving the same. One can find delicate and sophisticated hoops or intricate necklaces and bracelets at DWS. Every piece of jewelry gets sculpted to perfection with top-class materials and hands that work with sincere commitment. So, you can be sure that the jewelry in your hands is not just beautiful but also durable and safe. And that is the first reason you must choose DWS Jewellery Pvt. Ltd.
•Exceptional Craftsmanship
DWS Jewellery is a leading custom jewelry manufacturer offering exceptional silver jewelry. Every piece by the brand reflects the skills of its designers, intricate design techniques, and creativity.

The jewelry factory constructs everything with great care throughout subsequent stages like casting, prototyping, molding, gemstone settings, and finishing to provide you with a flawless work of art you can't help appreciating. Moreover, the pieces are stored in a certified way with all the right steps involving sealing and packaging.
•Creativity And Innovation
Sterling silver offers exceptional versatility aiding designers to create interesting pieces. The easy accessibility of silver and its variation makes it famous among consumers and artists.

DWS Jewellery is one jewelry manufacturer that takes great care to be updated with the latest trends to provide you with pieces that are not just unique but also very trendy and stylish. Be it the simple and sleek bracelets you are looking for or chunky necklaces that are intricate and traditional, DWS will not fail to please you.
Created by designers that are up-to-date with the latest trends, the jewelry you find here is one of a kind with a variety that is sure to provide you with a breathtaking collection.
•Customization
Customization is something that no reputed jewelry manufacturer can miss in the world of today, where customers can come with their designs and know that nothing is impossible in giving them what they need. Custom jewelry makers come out as the savior to provide just the design you need. And this is where you can trust DWS Jewellery.

DWS creates exceptional custom designs from sterling silver with high-quality gemstones. The company also offers these glamorous pieces in custom jewelry boxes per customer requirements.
•Affordable Pricing
And finally, there is the pricing, for this is one thing you cannot afford to overlook when buying jewelry, can you? Sterling silver jewelry is an affordable choice for people wanting to own beautiful and high-quality jewelry pieces.

That said, DWS offers the most competitive pricing making their regalia highly reasonable and affordable. So one does not have to worry about owning a couple of new pieces each time one wants to pamper and gift themselves.
Sterling Silver Regalia Made Accessible with DWS Jewellery
The above reasons will help you select DWS as your favorite sterling silver jewelry manufacturer. DWS Jewellery Pvt. Ltd. is a Jaipur-based brand that offers extensive silver and brass regalia studded with vibrant and high-quality gemstones. The company features trending jewelry pieces at affordable prices. Jewelry customization is another prominent service by the brand, making them a sought-after brand for silver ornaments. The DWS jewelry factory is located in the RIICO industrial area in Jaipur, Rajasthan, India. The company has state-of-the-art equipment and highly skilled personnel to create exceptional sterling silver pieces.
Each ornament represents high-quality, trending design, and excellent craftsmanship. DWS Jewellery is also a notable gemstone manufacturer and supplier offering an extensive range of gemstones like Emerald, Garnet, Amethyst, Druzy, and more.
The company features silver ornaments like rings, earrings, bracelets, necklaces, pendants, etc. These are available in their stores and online platform. The company enjoys an online presence and positive reviews, making them a reputed brand all over India. Explore their fine silver jewelry and brass ornaments on their website today!