Written By

Team DWS

October 08, 2022
Here's How You Can Get Customized Jewelry Made at Reputed Jewelry Factory Like DWS Jewellery
The trend toward customized jewelry is only increasing for a variety of reasons. Along with control over budget, there's also the fact that it offers more luxury by way of designing where you can be your creative best as you sit down with a jewelry maker who will create jewelry the way you want. And then, there is the fact that you get a wonderful heirloom as a result of great effort on the part of the jewelry maker by making use of all the right materials and stones to please you, aka the customer.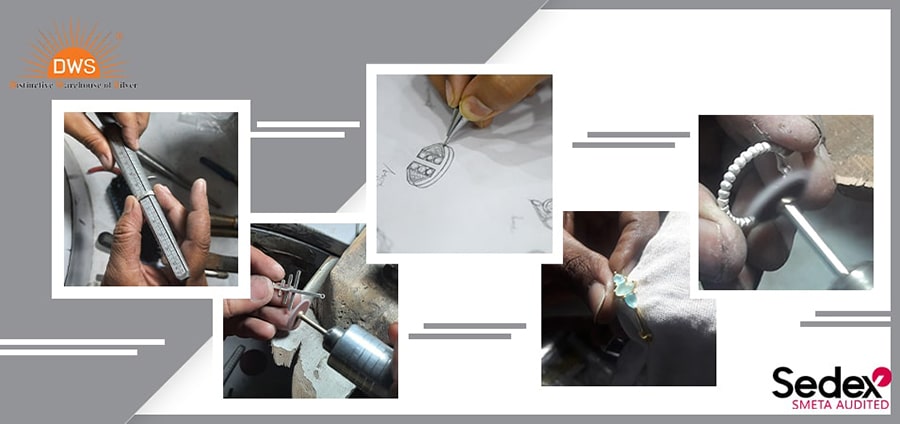 Get One Step Close to Customization with DWS Jewellery Pvt. Ltd.
And yet, all the above is true, only as long as you choose the right jewelry maker. And while there are many names out there that you can list, one that we would like to suggest for multiple reasons is DWS Jewellery.
Located in Jaipur, Rajasthan, DWS is a leading brand famous as a custom jewelry manufacturer in India.
Their USP?
Apart from the extensive sterling silver ornaments collection that one would come across when browsing their online page, the brand also offers you some of the best customization services from jewelry designing to packaging!
So, if you are wondering how to get customized regalia from brands like DWS, this guide will offer a detailed overview:
As we said above, this is one of the best parts about customized jewelry, contrary to shopping online or at a jewelry store. Here you have the jewelry maker sitting down to know exactly what you want so the jewelry factory can produce just the piece you think is right for you.
However, it is possible through extensive communication.
While your manufacturer is all ears to know what he has to create for you, it is on your part to be clear and define what you want.
Follow these steps that define the right way to communicate while customizing your regalia:
Give the designer an idea of your desired piece by pointing out some examples from their existing collections closer to your design.
Discuss changes you wish to be made for your piece.
If you do not find a similar piece in their collection, carry a picture from the internet or take your drawing.
While most jewelers refrain from copying designs, they can replicate gemstone settings or add your desired element to your piece.
Be clear and specific about your expected outcome.
Giving the Right Instructions
That brings us to the next most important part. You see, designing your jewelry through a customized jewelry manufacturer is not all about sitting down to discuss styles and trends.
There's some serious work on your part like getting all the right details as follows:
Give the exact dimensions you want as size is an important aspect of customized jewelry.
A customer ready with all the right information gives an impression of being serious about their demands and will, in return, be taken seriously too.
Be ready with all the instructions you need to have before you.


It Includes:
Rings: Finger size, bandwidth (for band rings)
Bracelets: Wrist size and width
Earrings: Gauge
Pendant: Length, width, thickness, weight, chain length
Design Elements
Metal type: 925 Sterling Silver, brass
Plating: Gold, Rose gold, fine silver, oxidized silver, etc.
Gemstones: Type, cut, size, clarity, shape, etc.
If your knowledge of metals and stones is limited, take the trouble to make study at home, doing all the research you can, to be knowledgeable on your part, making life easier for the manufacturer and you.
That brings us to the next most important point.
A Little Homework On Your Part
Don't expect the jewelry maker to come up with all the designs and opinions, it is not what the art of customized jewelry is.
Rather it is a thing that calls for a little bit of effort on your part:
Sit down to research the latest trends
Come up with designs perfect for you
Create a sketch of how you want your piece to look
You see, you cannot afford to be an annoying person with a long list of silly questions while the designer may be patient. It could be precious time wasted and could be used in giving you some serious advice on the sketch you have created or the image and how you can work on it.
This way, you can truly come up with something that's one of a kind and worth appreciating.
So, when working on a customized piece of jewelry, remember to keep in touch. Know that it is your work too. Hence you cannot be vanishing away and leaving everything to your jewelry maker.
Make frequent calls to know the status and be available when your jewelry manufacturer tries to get in touch with you.
Doing all of the above will go a long way in creating the right impression of how serious you are about the piece. The manufacturer will be appreciative and will work seriously on your design.
Approach DWS Jewellery Pvt. Ltd. Today!
And these are some things you need to remember when approaching DWS Jewellery or any other custom jewelry factory.
DWS Jewellery Pvt. Ltd is a leading custom jewelry manufacturer offering high-quality sterling silver and brass regalia. The company provides customization services for jewelry designs, pattern creation, prototype-making, and final dispatch. They also provide custom packaging options for all their in-house and custom pieces. Moreover, customization is also done online through their website and apps, ensuring global service.
Their collections involve extensive designs and gemstone settings. DWS also offers gemstone manufacturing services in their state-of-the-art facility, based in RIICO industrial area in Jaipur, Rajasthan, India. Their collections are an eclectic mix of ethnic and modern designs and feature intricate craftsmanship. Every piece is made to perfection and offers a unique edge to everyone's attire. So, if you are looking for a new piece of jewelry or require a custom heirloom piece, head over to their Jaipur store or explore their online collection today!