Written By

Team DWS

November 04, 2022
Here Are Four Jewelry Pieces That Look Great After Customization
When you say customized jewelry, one of the first things that come to mind (especially for someone new to the term) is that of a necklace or a bracelet with an initial or some cases, an entire name designed on it. While this is a timeless way to create a statement piece of jewelry, customized jewelry is much more than this, giving you a world of fun that you can discover and explore, unlike when shopping for readymade jewelry.

For someone already having tried working with a customized jewelry maker, you are sure to be nodding at this. And for someone new to this term, know that this is one area of jewelry shopping that you must not fail to explore.
If you are full of questions on the right custom jewelry factory, designs, trends, and more, worry not!
Experts at DWS Jewellery Pvt. Ltd, a leading custom jewelry manufacturer, point out the top pieces that look great after customization. The article will also help you with exactly what you need and a few ideas that you could start with if you are looking for some pieces to experiment on.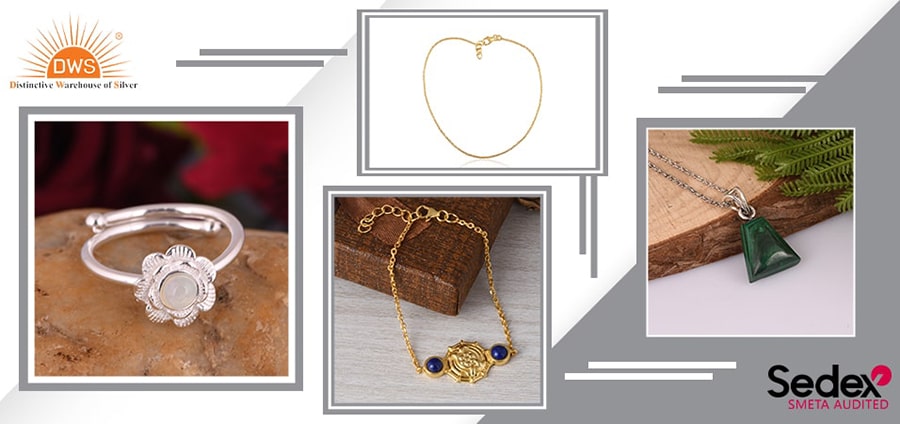 Five Jewelry Pieces That Look Great After Customization
DWS offers these extensive pieces with customization options per your design and sizing requirements:
#4. Anklets
Foot jewelry is often underestimated and not given much thought. However, these accessories can elevate your look in manifold with the right design and metal type. Enhance your overall look in a skirt or a pair of capris with ankle accessories.
Shop at DWS:
Get customized anklets from DWS Jewellery by selecting gemstone and silver platings from rose gold, and gold to oxidized silver. You can also select their fine silver anklets with gemstones like garnet, amethyst, labradorite, and more. You can also opt for charm customization for their cotton dori anklet.
#3. Rings
At number three comes the ring. Now, rings are little pieces of jewelry that are big on customizations. Everyone from royals to celebs owns a customized ring, and we as the general population shouldn't shy away from it.
Ring customization is possible in the following ways:
Gemstone cut
Gemstone setting
Band width
Ring design and pattern
Inscriptions
It can be anything from quirky to sophisticated. You choose. It depends on the event, occasional or daily wear, etc.
There's no end to customization when it comes to rings. You have all the freedom to be brave and let your creativity run wild when getting a customized ring for any occasion.
Shop at DWS:
Get customized rings from DWS Jewellery with gemstone options, metal and metal plating options, crystal cuts, settings, and more.
#2. Pendants
Now, this one's pretty common, isn't it? And yet the pendant will always remain a timeless favorite in the customized jewelry universe, and you know why? Because here your work of art is displayed on the most visible spot ever, on which no one can fail to have a look.
Wondering how to complete your otherwise plain Jane look with pendant customization? Here's what you can do:
Customize the pendant with your birthstone
Decide the pendant length, design, and width
Select charms as a pendant for a quirky edge to a plain chain
Experiment with fine silver or rose gold platings
You see, a pendant rests at the tip of your collarbone, stylishly dangling from a delicate chain to catch all the viewer's attention and steal the show at a party where you would otherwise end up looking very plain.
Shop at DWS:
Get customized pendants and chains from DWS Jewellery for gemstone types and metal choices.
#1. Bracelets
Bracelets are among the top customized accessories. These pieces are popular among men and women, for this ornamental piece can subtly create an impression when you move forward for a handshake or pass on that handbag to the guest beside you at the dinner table.
Bracelet customization is possible in the following ways:
Customize the bracelet with your birthstone or colorful gemstones
Decide the bracelet width, design, and metal type
Select charms for your bracelet for a quirky edge to a plain chain
Experiment with fine silver or rose gold platings
Opt for gemstone and charms combinations
Shop at DWS:
Get customized bracelets from DWS Jewellery in brass gold, fine sterling silver, and oxidized silver. You can also opt for charm design and metal customization for their cotton dori bracelet.
Tips for Jewelry Customization
And finally, we come to the most interesting part of it. How many times have you walked into a store to come out disappointed on finding that there is nothing that came half as close as what you wanted to wear with the black kanjeevaram saree? Don't worry, as you have a great customization solution, with customized jewelry manufacturers that can do the trick.
Put your ideas all down on paper. It doesn't matter whether or not you're good at sketching.
Try your best to offer a picture of what you want, and your jewelry maker will make sense of the rest of it.
You can also take some reference pictures to explain your requirement.
Define your metal and gemstone considerations and discuss their feasibility, working process, and design outcomes.
Discuss delivery times and order quantity and prices.
Final thoughts
Customization guarantees a lot of fun that comes along with it, be it a bracelet, an anklet, or an entire necklace set you have in mind.
And that's not all! It's also much more affordable and budget-friendly, especially if you get them done from the right places. Selecting a reputed jewelry factory is crucial for customized regalia.
Hence, it is always advisable to opt for reputed manufacturers like DWS Jewellery Pvt. Ltd. Located in the pink city of Jaipur in Rajasthan, they are one of the leading jewelers in India we think you should not miss.
You can get in touch with them online and even explore some of their interesting collection of pieces while you approach them for your customized jewelry.