Written By

Team DWS

July 06, 2023
The Deep Symbolism and Cultural Significance of Black Diamonds
Black diamonds are a unique and fascinating gemstone that has captured the attention of jewelry lovers and gemstone enthusiasts alike. Unlike the traditional colorless or colorful diamonds that we are accustomed to, black diamonds possess an enigmatic allure that sets them apart.

The black color of these diamonds is a result of numerous inclusions and impurities within the crystal structure. These imperfections, known as graphite or carbon inclusions, give black diamonds their distinctive dark hue. While black diamonds may seem opaque at first glance, they possess a captivating ability to reflect light, creating a mesmerizing sparkle.

The meaning behind black diamonds is as intriguing as their appearance. These gemstones symbolize power, elegance, and mystery. They are often associated with strength, which is reflected in their deep and intense color. Black diamonds are thought to hold a certain aura of mystery, representing the unknown and the hidden depths of the universe.

In addition to their strong symbolism, black diamonds also carry a sense of sophistication and glamour. They have become increasingly popular in the world of jewelry and fashion, adorning engagement rings, earrings, pendants, and other statement pieces. Black diamonds provide a striking contrast when paired with other gemstones or metals, making them truly stand out in any piece of jewelry.

Another interesting aspect of black diamonds is their versatility. While traditionally associated with formal and evening wear, they have found their way into more casual and contemporary designs. This adaptability ensures that black diamonds can be incorporated into various styles and fashion statements, allowing individuals to express their unique personalities and tastes.

The rarity of black diamonds adds to their allure. These gemstones are not as abundant as their colorless counterparts, making them a coveted and sought-after gemstone in the jewelry industry. Their scarcity makes owning a black diamond even more special and exclusive, enhancing their perceived value and desirability.

Whether as a symbol of strength and mystery or as a fashion statement, black diamonds continue to captivate our imagination. Their unyielding allure, combined with their unique symbolism and versatility, makes them an exceptional gemstone choice for those seeking to make a statement with their jewelry. Black diamonds are indeed a timeless and extraordinary gemstone with a meaning that goes beyond their striking appearance.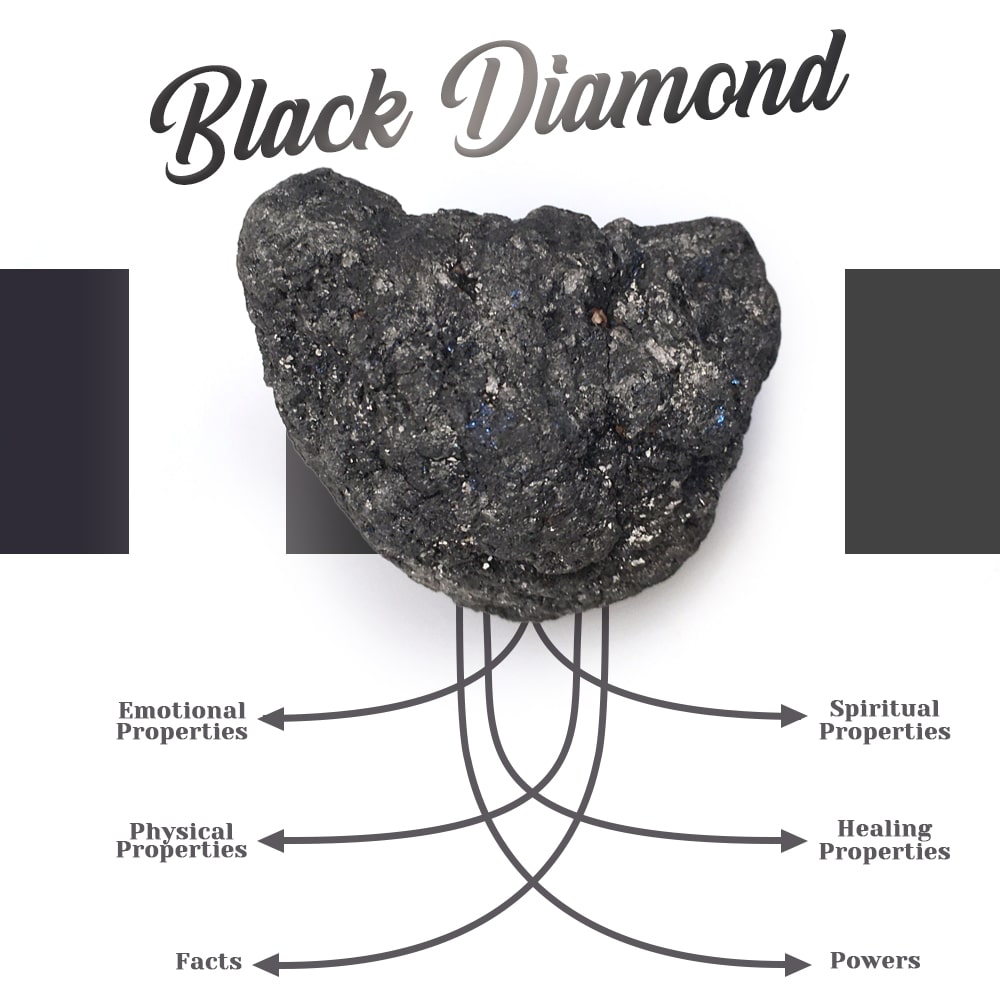 The Mystical Power of Black Diamond: Exploring its Healing Properties and Benefits
Black Diamond, known as a symbol of power and prosperity, is not only a stunning gemstone but also possesses unique healing properties. This enchanting gemstone is formed deep within the earth's mantle under immense pressure and is believed to carry an energy that can help with various physical, emotional, and spiritual ailments. Let's explore the healing properties of Black Diamond and its potential benefits.

Physically, Black Diamond is said to promote overall physical wellbeing. It is believed to strengthen the immune system, supporting its ability to fight against diseases and infections. Some practitioners also claim that Black Diamond can assist in regulating blood circulation, helping to alleviate common cardiovascular issues.

Furthermore, Black Diamond is thought to possess anti-inflammatory properties, making it beneficial for joint and muscle-related conditions such as arthritis and inflammation. It is believed to relieve pain and facilitate the healing process in the body. This gemstone is also claimed to aid in detoxification, assisting with the elimination of toxins from the body and promoting a healthier system.

Emotionally, Black Diamond is associated with grounding and protection. It is said to help individuals feel more secure and centered, providing a sense of stability during times of volatility or change. Black Diamond is believed to release negative emotions such as fear, anxiety, and grief, allowing individuals to experience emotional healing and restored balance.

Additionally, this gemstone is thought to enhance self-confidence and courage, empowering individuals to overcome challenges and achieve their goals. It is also said to have a calming effect on the mind, promoting mental clarity and reducing stress. Black Diamond is believed to stimulate creativity and focus, making it a useful stone for artists, writers, and individuals seeking inspiration.

Black Diamond's spiritual properties are highly regarded as well. It is often considered a stone of transformation, capable of assisting individuals in their spiritual growth and evolution. Some practitioners believe that Black Diamond can help one connect with their higher self, guiding them towards enlightenment and self-realization.

Moreover, Black Diamond is associated with protection against negative energies and psychic attacks. It is believed to create a shield around one's aura, preventing the entry of unwanted energies and promoting a sense of spiritual safety.

To harness the healing energy of Black Diamond, it is recommended to wear this gemstone as jewelry, such as bracelets, necklaces, or rings. Meditating with Black Diamond or placing it in your living space can also enhance its healing properties.

In summary, Black Diamond possesses a wide range of healing properties that can benefit individuals physically, emotionally, and spiritually. From promoting physical well-being and relieving pain to enhancing emotional stability and protecting against negative energies, this beautiful gemstone offers a multitude of healing possibilities. Embrace the power of Black Diamond and unlock its potential to support your overall well-being and growth.

Black Diamond: Unveiling its Fascinating Facts, Powers, and Wide Array of Uses
Black Diamond Facts:
Black diamonds, also known as carbonados, are a rare and mysterious type of diamonds that are distinct from their white and colored counterparts.
Unlike other diamonds, black diamonds have a unique opaque black coloration. This makes them stand out and gives them an unmistakable appearance.
The origin of black diamonds remains uncertain, with theories suggesting they may have come from outer space or formed deep within the Earth's mantle.
Black diamonds are composed of carbon, just like other diamonds, but they have a different molecular structure that causes their unique color. This structure also affects their physical properties.
These diamonds are exceptionally tough and rank among the hardest substances on Earth, making them highly resistant to scratches and damage.
One of the most interesting facts about black diamonds is their rarity. They are incredibly rare in nature and are mostly found in Brazil and Africa. This scarcity contributes to their high value and desirability.
Historically, black diamonds were associated with negativity and superstition. They were believed to possess mystical powers and bring bad luck. However, perceptions have changed over time, and black diamonds are now considered beautiful and fashionable gemstones.
Black diamonds have gained popularity in recent years, becoming a favorite choice for unique and unconventional jewelry. Their distinct color and unconventional appeal make them a statement piece.
Due to their black color, these diamonds are often used as a striking contrast when combined with white or colored diamonds, creating a captivating visual effect.
The largest black diamond ever found weighed around 890 carats and was named the "Sergio." Its immense size and exceptional quality made it highly valuable.
Powers and Uses:

Black diamonds are believed to possess various metaphysical powers and are associated with protection, grounding, and healing. They are thought to absorb negative energy and promote clarity of thought.
Some people wear black diamond jewelry as a symbol of strength, resilience, and personal transformation. They are seen as talismans that can help overcome challenges and obstacles.
Black diamonds are also used in alternative healing practices. They are believed to center and align the body's energy, enhancing spiritual well-being and giving a sense of emotional balance.
In the world of fashion and jewelry, black diamonds are known for their versatility and uniqueness. They can be crafted into various jewelry pieces like rings, earrings, pendants, and bracelets, creating a bold and sophisticated look.
Due to their rarity and exclusivity, black diamonds are often associated with luxury and high-end jewelry. They have become popular among fashion-forward individuals looking for statement pieces that stand out from traditional diamonds.
Black diamonds can also be used in industrial applications due to their unique properties. Their hardness and resistance to wear make them suitable for cutting tools and drill bits used in the mining and drilling industries. Additionally, they are sometimes used for specialized polishing and grinding purposes.
Black diamonds have gained significant attention in the world of engagement rings as couples seek out unconventional options. Their distinctive appearance and symbolic meanings make them an appealing choice for those who want to break away from tradition and make a bold statement of their love.