Written By

Team DWS

November 01, 2022
Benefits Of Customized Jewelry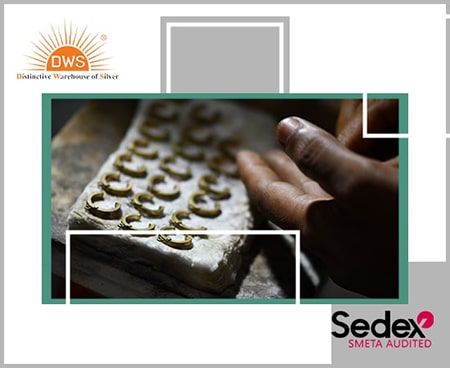 We all imagine how the ring we are about to buy will look on our fingers. We smile at that mental picture inside as we head to the store, only to sometimes have our happiness short-lived as we have to make do with something similar but not even as close to it.

However, how is the jewelry maker to know what you desire in terms of ring pattern, gemstone, and design?
This is where custom jewelry manufacturers come into play. They note the kind of design you want and then go ahead and do everything to make your wish come true, till you finally have that ring or any other ornament piece, just the way you dreamed it to be.
Custom Regalia Made Easy with DWS Jewellery
And this is what you get from DWS Jewellery, one of your best stops for customized jewelry in Rajasthan, India, charging you affordable prices while ensuring that you are satisfied with just the kind of jewelry you need.
Not sure about whether or not to go for customized jewelry? Doubtful about whether you should take an effort or go ahead with what you find from the collection already available in the store?
Well, before you do that, read some reasons that could change your mind and encourage you to take the time out to customize your jewelry. From a ring, a pair of earrings to make you look sophisticated at all your office meetings, or an entire necklace set to wear with the new saree for a cousin's wedding, customization is fun with all ornaments!
Benefits of Customized Ornaments


It's Fun!

Nothing can beat the joy of seeing a piece of jewelry you designed as you finally place it on your collarbone, earlobe, wrist, or finger.
Added to that is the pride you can take in telling friends and relatives who come to admire it that you designed it yourself.
And finally, the whole effort you put into getting the entire thing designed and done will go a long way in adding sentimental value to your new jewelry.
Because, trust us, at the end of the day, when you are admiring all the ornaments in your collection, you can't help having your eyes fall on that one piece that you designed yourself with a sparkle and a twinkle in it.

We are all artists in a way! It doesn't matter if you are looking for something for yourself or want to design a beautiful ring for your would-be bride.
We all have something creative and beautiful in mind that no one else could think of. But the sad part is that not all of us can be jewelry manufacturers. Eventually, these ideas go in vain.
Don't do that to the artist in you. When all you have to do is approach Jaipur's best custom jewelry manufacturers, who can easily turn your vision into a piece of art for you.
Because in the end, it is only with custom jewelry that you can let your imagination run wild and come up with the statement piece that describes your style.

Here's another thing about getting your customized piece of jewelry. It makes you feel special as it's done only for you.
If it is something you're venturing into for the first time, try it and you're going to love the whole thing of having an expert jewelry manufacturer doing it all for you! Knowing that the experts will spend the next few days working on your creation and imagination is exciting.
In the end, you can expect is great customer service, unlike the one you would get when comparing pieces of jewelry in a store. Here you can take your time and explain all your quirks and expectations and all the nitty-gritty of what you want and still have all your needs respected.
Because at the end of the day, you know that you are special and worth it.

Here you can be sure of good quality per your requirement as the jewelry makers will spend energy working on giving you the perfect jewelry.
In the case of customized jewelry, the custom jewelry manufacturer goes out of the way and takes the trouble to choose the kind of materials and stones needed to come up with the piece for you, unlike jewelry merely designed on a large scale without keeping the user in mind.
Let's admit it. How many times have you walked into a store to come across the perfect piece, until you hold it in your hand and then let your eyes fall on that teeny tiny area that makes it not-so-perfect?
Stay assured that this will not happen when you approach manufacturers like DWS Jewellery for customized jewelry. Here, perfection is the key, and customized jewelry makers ensure you won't settle for anything but the best.

Finally, let's not forget that customized jewelry is budget-friendly as you have control over how much you want to spend and get the exact piece you want,
So, at the end of the day, you get something beautiful just like you wanted it to be, and friendly on your budget too!
Fulfill Your Custom Jewelry Needs at DWS Jewellery
Customized jewelry offers extensive benefits. However, a crucial factor to getting the perfection you desire is to opt for a reputed jewelry factory. The Jaipur, Rajasthan-based jewelry brand offers extensive sterling silver and brass jewelry in exclusive designs and patterns, along with customization options.
Headquartered in Jaipur and a part of the RIICO industrial area, DWS Jewellery is one of the leading jewelry manufacturers with an online store for customers to visit from all over India.
Apart from customized jewelry, one can also come online to shop for some of our other unique pieces from our jewelry factory, from fashionable rings to necklace sets. The brand offers extensive services for customization like pattern designing and more. Head over to the store for their custom designing and manufacturing services today!