Written By

Team DWS

October 17, 2022
An Overview of Customized Jewelry In India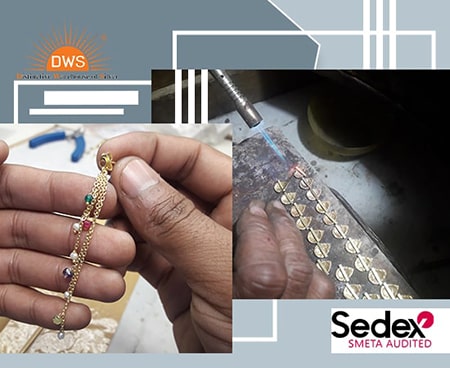 "Leading jewelry manufacturers and experts suggest, customization is the way forward in the Indian jewelry world."

Reports suggest the Indian jewelry market expects an 8.34% CAGR growth from 2022 to 2027. The jewelry market in India is among the largest in the world and continues to prosper with time. It is driven by young generation jewelry maker and buyers featuring versatile personal tastes. The expected boom is due to the change in consumer preferences owing to increased market exposure. It has made jewelry shoppers savvy for high-quality and the latest trends.
Thus, one must not be surprised about the high traction in the customized jewelry sector in the coming years. Customers these days want stunning and unique pieces and customized jewelry offers just that. With custom jewelry from reputed jewelry manufacturers, the customer feels more connected and is willing to invest more.
The popularity of custom jewelry is due to the consumer's demand to acquire pieces that combine personal preferences ranging from metals, metal color (fine, rose gold, and yellow), diamond and gemstone quality, karat, engraving, etc.
Reasons Why Custom Jewelry Is Extraordinary And Unique
The customized ensemble is unique as the shoppers can select a piece and alter it per their requirements. Jewelry customization allows customers to get ornaments to match one's personality and style. Thus, the jewelry market meets the customer's high personalization demand by utilizing four distinct customization levels as follows:
Metal Color Options
Most jewelry lovers prefer the yellow-gold metal color for ornaments like rings, necklaces, earrings, and more. Hence, selecting the right metal color for custom jewelry is important as the ornament design. The metal color has a greater effect on the ornament aesthetic. Thus, custom jewelry manufacturers like DWS Jewellery Pvt. Ltd. these days offer color choices for ornaments from yellow gold, white, or rose gold. Moreover, with silver jewelry, the color options make it more appealing.
Gold or Silver Karat
925 sterling jewelry consists of 92.5 percent pure silver and other alloys that offer silver its properties. Silver ornaments also come with customer-desired plating like 14k. Customers can select from these extensive options to make ornaments like earrings, necklaces, bracelets, and more. The karatage also defines different properties of the metals. These options also apply to metals like gold, brass, copper, etc.
Custom Engraving
Engraving is another popular customization option for clients hoping to get a signature piece. Engraving involves dates, phrases, names, messages, quote, or other engravings. These engravings offer a distinct expression to the ornaments.
These signature characteristics of the ornaments allow the customer to resonate and connect deeply with the jewelry. Engraving is also gaining popularity in the jewelry customization industry as a top gifting choice and presents a well-thought gift rather than selecting something from the rack. It delivers feelings of effort and care, ultimately leading to customization popularity among customers.
Design Customization
Apart from engraving, a customer also opts for design customization. A reputed jewelry manufacturer must be flexible in incorporating the customer's desired design. A customer can also explore existing on-shelf pieces and ask for customization for gemstones and their design. Design customization involves charms featuring a person's zodiac signs. Alphabet customization is another part that has been around for years, however, these days letter or word customization has become highly sought-after among jewelry makers. Custom jewelry designs allow customers to connect with their piece and provides deeper connectivity with their designer piece.
Diamond And Gemstone Quality
Today customers are very big on research and give extensive emphasis on different aspects before the actual purchase. Diamond and gemstone quality is another area jewelry buyers consider before their purchase. Hence, one must opt for reputed jewelry suppliers to get top-quality jewelry ensuring your ornaments pieces like rings, earrings, necklaces, and bangles stay stylish and elegant thought their lifetime.
Customers often look out for the typical 4C's as follows:
Clarity: Features the internal form of the stone
Color: Features extensive color options for diamond
Carat: Features the weight of the gemstones and diamonds
Cut: Features diamond and gemstone cuts that ultimately represent their high quality
While these characteristics are mostly associated with diamonds they are also applicable to other gemstones. Customers also ask for certification from different institutes. Hence, a reputed seller will always offer the necessary certification with their gemstone jewelry. For instance, in terms of diamonds, a jeweler offers a GIA certificate. This authenticity certificate from the Gemological Institute of America provides all information regarding the diamond.


Final Thoughts!
The Indian jewelry design market is witnessing a shift in customer choice from readymade jewelry or a one-size-fits-all approach to customization. Customers wish to possess a signature and rare ornament across India, and this demand continues to increase. Despite a plethora of accessory designs in the market, customers desire a unique piece that makes a statement. Thus, customization has become highly essential. With customization availability, customers can select unique regalia without compromising its quality.
Expressing an opinion about the increasing demand for customized jewelry among customers, DWS Jewellery Pvt. Ltd. M.D. Mr. Harsh Garg says, "We have seen a continuous increase in customization requirements among customers in recent years. As pioneers of custom jewelry designing, we are always trying to introduce new technology to make the process simple and accessible to all our customers."
DWS Jewellery is one of the leading custom jewelry manufacturer in India, offering high-quality sterling silver regalia. Their ornaments are made of silver and brass and are available in multiple colors.
The Jaipur-based company provides customization options, from jewelry designing and pattern-making to packaging. They provide design and gemstone customization for all their regalia. The company also features trending customized jewelry like letter pendants and necklaces.
Every ornament at DWS Jewellery speaks of its outstanding craftsmanship and high-quality gemstones. They follow ancient sterling silver designing techniques, thus re-inventing long-lost methods and celebrating artists throughout India. The company has a state-of-the-art jewelry factory in Rajasthan, India, featuring an excellent ornament collection. For customization services, visit their store or explore their website today!